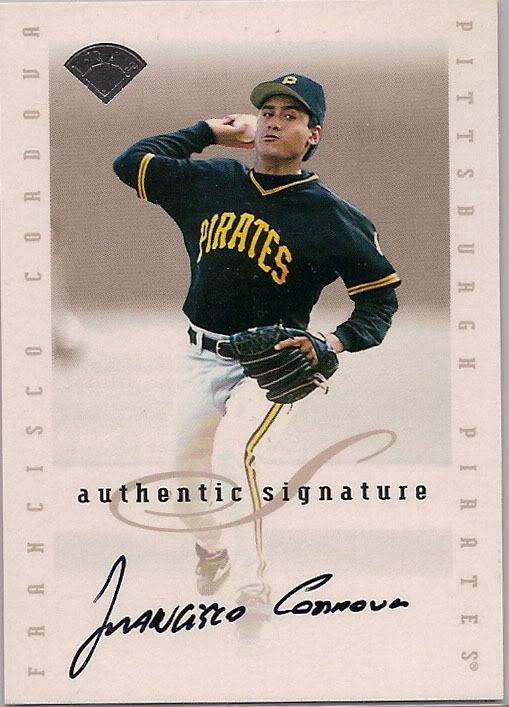 Yeah, you knew it was coming. Cordova played for the Pirates from 1996-2000 and pitched pretty well throughout his years with the Buccos, with his best season coming in 1998, when he threw 220.1 innings of 3.31 ERA ball. But he is best known for what us Pirate sufferer's call, "
The Game
." Actually, I just made that up, but I think it's up there with the Brian Giles grand slam walk-off and the Rob Mackowiak doubleheader as the greatest moments during out 17-season drought.
My own relation to that night was that I had a little league game that evening, and on our drive home, my Dad and I were listening to the game on the radio and decided to head down (I know, the game was sold out, but my Dad knew a guy). As we were walking through the main concourse, Mark Smith hit his blast. We spent the rest of the night hanging out at HeadWaters (the bar they built at Gate C and then tore down five years later) drinking coca cola and watching the highlights over and over again... Oh, memories.
Cordova had to retire after the 2000 season due to arm troubles... or so we thought. The man is still pitching in Mexico, suiting up this coming season with the Diablos Rojos del Mexico. $50 finder fee for anyone that can find me a Diablos Rojos/Cordova jersey.
Get your hockey fix over at the
Empty Netters blog
. The Pensblog does a good job recapping the
Kovalchuk to the Devils deal
. My thoughts, he's a hell of a goal-scorer, but he's one big bag-a-douche. He's extremely soft, like Miro-soft, and he is the biggest diver in the league. I would have trouble pulling for him if he were a Pen, he's that big of a punk, which will make it all the easier to hate the Devils.
The Tall Guy told me yesterday, "Bill Dudley died," to which I responded, "Who's that?" Rightfully so, he said, "Shame on you, Steelers Hall of Famer." Indeed, shame on me. Thank God there are real Steelers fans out there who know their stuff, here's a write up about
"Bullet" Bill Dudley from the boys over at BTSC
.
If you want some more Punxsutawney Polomalu,
here ya go
.
If you missed my tirade on the PG's open letter to Bob Nutting,
here is a link
(lazy bastards). But if you want a better response that makes more sense,
Charlie does a much more sound attempt over at BucsDugout.
Lots of snow this weekend, so I'll probably be stuck inside watching meaningless sports, maybe I'll make some witty observations. More links later as well.
And then there's
this nice recap of Philly's Wing Bowl
. Nothing sums up the city of Philadelphia like getting up at 6 in the morning and yelling at women to show their... I like the potshot at Kid Crosby by the author, quite classy.