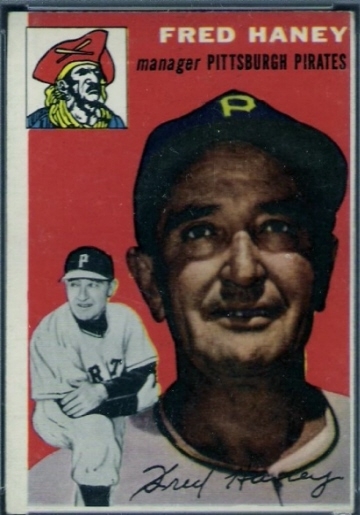 Fred Haney
was the Bucco's manager for three of those terrible 1950s teams. From 1953-1955, he led the Pirates to 104, 101, 94 loss seasons (improvement), before he was let go. In the next three seasons Haney would manage the Milwaukee Braves to two pennants and a World Series Championship in 1957. Haney ended up as the first general manager of the expansion L.A. Angels and was also a broadcaster before he became a manager.
You may be wondering why I am focusing on these terrible Pirate teams from the 1950's and most of it comes from the fact that the two cornerstones of the franchise in the '60s (Dick Groat and Roberto Clemente) were born from that era. Baseball in the '50s was vastly different from the way the game is thought about today, but my biggest point is, sometimes you have to get worse before you can get better.
Pens
won
last night against the Bruins in what was supposed to be a death match, but ended up a dominating performance from the Guins that produced a fairly boring game. Recap
here
&
here
. My own two cents; it was good to see Matt Cooke stand up and face the music he knew was coming; although it would have been better to see him take his helmet off (since he wears a shield, that is the custom) but I don't blame him since Thornton looked like a coon with rabies. Also, it only took 3/4 of the season, but it's nice to see the Pens finally record a shutout; the Flower is never going to be a the type of goalie to rack up a lot of SO since he's not the most fundamentally sound 'tender around and the Pens don't play a style that befits low-scoring affairs, but the Flower always makes the big saves at the big times, and that's all I can ask for right now.
The Buccos sent Pedro to the minors
. If anybody is going to try to chalk this up to Pirate cheapness, they're way off. Pedro has a lot to work on before he is ready to be the Pirates everyday third baseman. He needs to cut down on his K%, get a whole let better at hitting lefties, and continue to work on his fielding at the hot corner (especially his range). I'll be paying close attention to the big fella, and will surely have more words on him as the season plugs along.
If you've ever wondered what Spring Training in Bradenton is like,
Pat at WHYGAVS
is there and has all the info you ever need. Matt B. from
Pittsburgh Lumber Co.
has a good look at last year's defense versus this year's projected defense. The only huge drop off will be at SS, whether it will be Ronny Cedeno or Bobby Crosby, neither can replace the glove of Jack Wilson.
I hope you watched South Park on Wednesday,
as our favorite QB was featured
. It was a good episode (not great, as it got a little out of hand at times) and pretty much hit the nail on the head when it comes to celebrities and infidelity. They're only sorry when they get caught. On a related note, don't know if you saw
the texts that Tiger was sending porn star Joslyn James
, but I have one nagging question; would Tiger really have stage fright during a golden shower? Dude can sink a putt in font of thousands of people to win a major tourney but can't drain the main vain on a woman with no one watching? That doesn't add up. Also, Tiger is pretty gross.
That's all for today, as I think I just crossed a line with those last few words. WVU is representing the Big East well right now by dominating Morgan State, so hopefully yesterday was just one of those days and Pitt will beat down on Oakland in just about an hour. Hail to Pitt!
One more note: Check out
Common Wealth Press
, a really cool company that operates out of a shop on Carson St. in the South Side. They do custom work but also have some pretty good designs of their own, especially this little beauty: