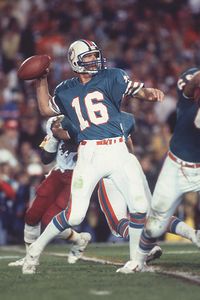 I did it again! Unfortunately I can't find a photo of David Woodley in a Steelers jersey, even though he played for the team during the '84 and '85 seasons. Woodley is a pretty interesting story, he has always been seen by Miami Dolphins fans as the QB that bridged the gap between Bob Greise and Dan Marino. In fact, he started for the Dolphins in Super Bowl XVII, and at the time, was the youngest QB to ever start a SB.
Woodley was traded to the Steelers after the '83 season once the Fins knew they had the goods in Marino. Woodley played two uninspiring seasons with the Steelers, battling with Mark Malone (quick trivia, Malone was the last QB to be drafted by the 'Lers in the first round until we drafted who?
That's Easy
!) for the starting job. And then, despite being the highest paid player on the team, Woodley retired after the '85 season. The rest of his story is a sad one, but if you're interested,
here is a good write up from a few years ago
.
COYB
! Everton won today in impressive fashion, dominating Sunderland in the first half, building a two goal lead before the break, and then playing a steady defensive game in the second half while cruising to three points in the Prem. It's a big three points for the Blues, but for all those US fans, it's even better news since Landon Donovan scored his first goal with the Toffees. LD made a great run off of a long ball to Tim Cahill, collecting the ball with his chest and then coolly slotting the ball low and hard. It was classic Donovan. It really can't get much better for him right now. Highlights and more later...
At the PG, there are a lot of
angry people
responding to Bob Nutting's Q&A at the PG earlier this week. I will channel Jeremy Roenick: we don't need you. Or maybe
Bryce Harper
: If you don't like the show, don't buy the ticket (man, I really hope we don't draft this kid. I don't care if he is just 17, he sounds like a grade-A douscher). And then
Bob Smizik hops on the hate-train
, and then gets made a fool in the comment section by MarkinDallas.
My buddy Drew sent this over to me, a pretty cool look at
James Harrison's dash
.
This
open letter to Haiti
from blogger and former basketball mercenary Paul Shirley has stirred up quite the controversy. I'm gonna stay away from politics on this blog, but this will surely stir up some strong emotions on both sides.
I got nothing else, more later.
UPDATE: Actually, I still got nothing else, but I do want to take a flame thrower to the people posting on Smizik's piece. The question that seems to be ignored again and again by dissenters, "Okay, the Pirates suck, now what would you do differently?" And please do not say "spend"; in what business does spending solve the problem that simply? Idiots. And don't get me started on Smizik's magic quotes in the comment section. I would love to see him debate a knowledgeable Pirate fan in public, it would be like Cicero vs. Nero.